Features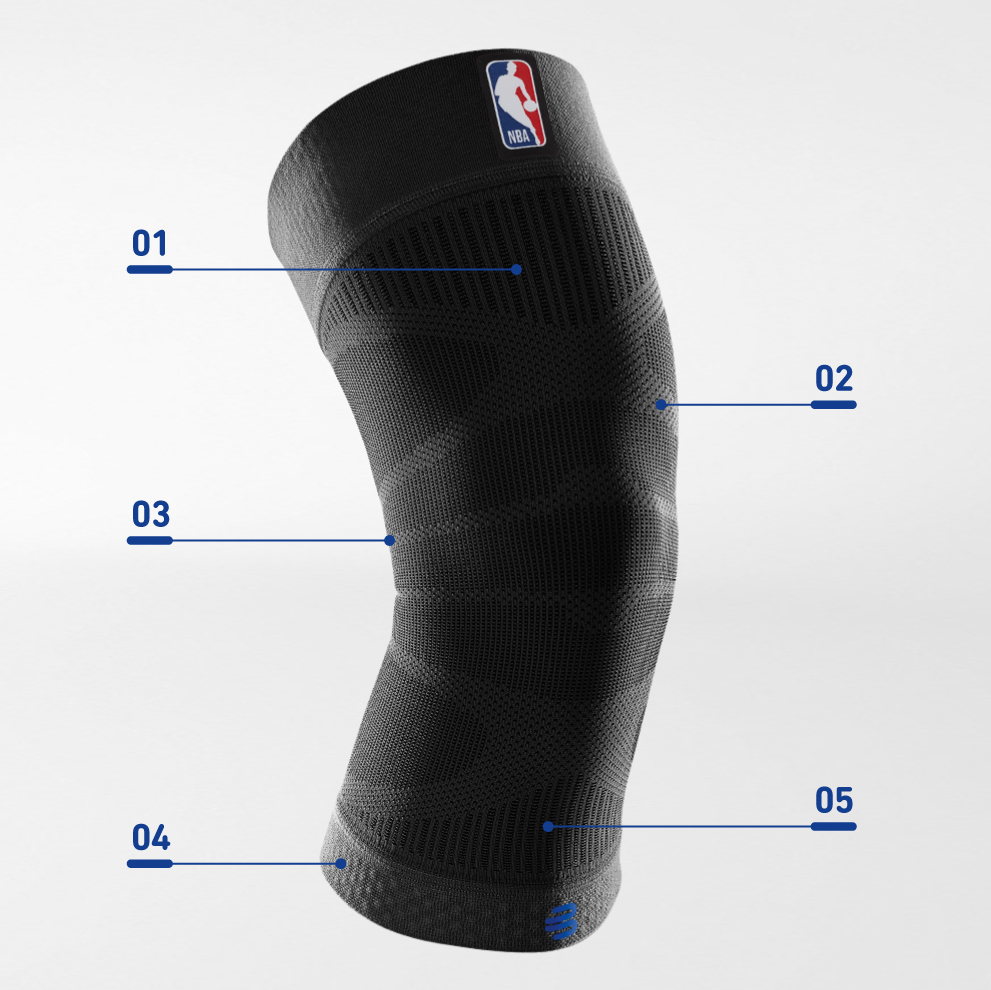 Breathable Knit:

Lightweight material wicks moisture away to keep the skin comfortably cool.

Functional Zones:

Targeted compression for maximum performance.

Comfort Zones:

On the knee cap and sensitive area at the back of the knee.

Gripping Zones:

Built for athletes on the move with two silicone dotted bands to keep the support in place even during fast breaks.

Durable and Washable:

Built to last.
*Box contains one product (not a pair)
How to achieve the perfect fit
Step 1
Click on sizing chart above
With your knee slightly bent, take the measurement slightly below the knee cap.
Step 2
The Sports Compression Knee Support NBA should feel snug and firm but not constrictive. All Bauerfeind knee supports qualify for our 30 day size exchange policy.
Easy Returns
Concerned that your item might not fit properly? Our aim is to ensure you are happy with your Bauerfeind purchase. All Bauerfeind items come with a 30 day return & exchange policy*. Ensuring you of the perfect fit.

Items must be in original condition, with original undamaged packaging and not have been used apart for testing for correct sizing.

*Sale and bundle deals may be subject to return fees, see T&Cs for full details.
Shipping
Your order will be processed quickly. All orders are shipped securely across Australia and New Zealand. We offer the following delivery options.

Australia

• Orders $100 and over - FREE Standard Shipping: 3-5 business days

• Orders under $100 - $9 Standard Shipping: 3-5 business days

• $19.95 Express Shipping: 1-3 business days (usually overnight delivery in metro areas)

Express orders that are received before 2:30pm, Monday to Friday, are processed and dispatched on the same day.

New Zealand

• $12.95 Standard Shipping: 7-10 business days

• $24.95 Express Shipping: 1-3 business days metro
Bauerfeind NBA Sports Compression Knee Support is the only officially licensed knee brace series from the NBA worldwide. The Brace is worn and exclusively authorised to play "On Court" by the athletes of the NBA.
Bauerfeind's NBA Compression Knee Support is designed to help boost performance in sports and activity, getting the most out of the muscles in your knees for unparalleled output and helping you perform at your best.
The NBA Compression Knee Support features medical grade compression technology and is everything neoprene is not - lightweight, breathable and anatomically-contoured for a perfect fit. The compression increases the supply of oxygen to the working muscles of the knee. This increased oxygen supply helps to improve muscle endurance and decrease muscle fatigue after exercise. The controlled compression improves the knee's ability to maintain maximum movement stability during sporting activities.
An ultra breathable moisture-wicking weave that vents heat and moves with your knee through every movement as well as the gripping zones to keep it in place means it's perfect for any level of activity.
Partnered with NBATA: The National Basketball Athletic Trainers Association has worked in partnership with Bauerfeind to support their best athletes since 2003. Together these two organizations are dedicated to providing the best sports medical care solutions for professional basketball athletes.
An Officially Licensed Knee Support of the NBA: With the new Bauerfeind Sports Compression Knee Support NBA we now offer a premium basketball support to keep both professional and amateur basketball players and athletes playing at the top of their game. Coming in black and white, as well as 6 team versions with the NBA logo you can be sure to represent the best players in basketball and trust that your knee is supported for breakthrough performance.
Ideal for sports involving rapid start and stop motions including basketball, netball, volleyball, squash etc 

This product is not suitable for knee injuries stand alone and should be complimented with a more suitable product. For any injured knees please refer to our Train Line of products that can be found here.
Please note this item is sold as single unit (does not come as a pair). 
Frequently Asked Questions
How is this different to the NBA Sports Knee Support?
The NBA Sports Compression Knee Support is purely a single compression sleeve for one knee. By not using any gel support or stays, the sleeve is 100% focused on getting power and strength into your knee.
Can I wear this all day?
The NBA Sports Knee Compression Sleeve is designed for shorter periods of use, and all-day wear is not advised due to the high compression it creates. It's most suitable for shorter periods of activity like sports and exercise, and is ideal for anything up to 3 hours for the best results.
Does this come in a pair?
The NBA Sports Compression Knee Sleeves are sold individually, however we offer a bundle deal for two so you save on both knees.
Customer Reviews
You might also like
Shop All
Slide for More